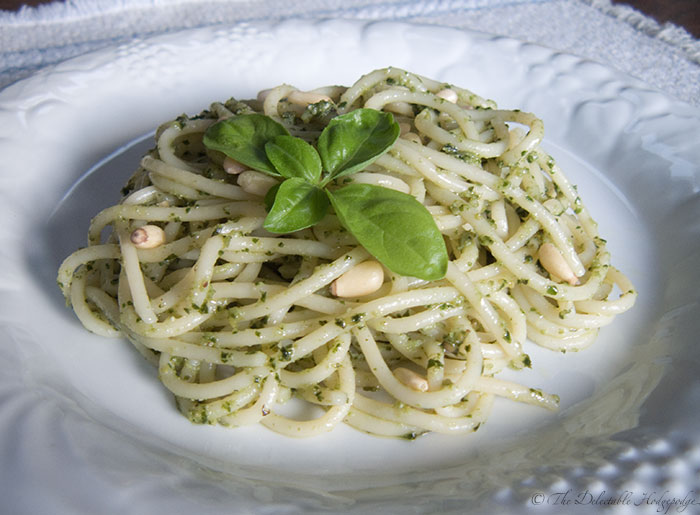 Spaghetti al Pesto Genovese
| Ingredient | For Two | For Two |
| --- | --- | --- |
| spaghetti | 7 oz. | 200g |
| pesto alla genovese | 2 Tbsp. | 2 Tbsp. (30g) |
| extra-virgin olive oil | 3 Tbsp. | 3 Tbsp. |
| grated parmesan cheese | 3 Tbsp. | 3 Tbsp. |
| salt | ⅓ tsp. | ⅓ tsp. |
| pepper | pinch | pinch |
| pine nuts (optional) | to taste | to taste |
Using previously-prepared pesto alla genovese as a base, you can make a delicious homemade pasta sauce in about as much time as it would take to open a bottle from the supermarket, and you can adjust the oil and salt level to your own tastes.
Preparation
Have some pesto alla genovese basil paste on hand; if frozen, break off the amount you'll need and thaw.
Directions
Boil spaghetti.
Boil spaghetti in a large pot of salted water. Follow the directions if using packaged spaghetti, making sure to stop when it's still al dente. Drain and set aside.
Mix sauce ingredients.
In a large bowl mix prepared basil paste, olive oil, parmesan cheese, salt, and pepper, stirring until smooth. The amount of oil, cheese, and salt can be adjusted to your taste.
Toss sauce and pasta.
Add the spaghetti to the bowl and toss with a pair of forks until well coated.
Serve.
Put on plates and sprinkle with whole pine nuts and more parmesan cheese, if you like.
Notes
The advantage of salting the water that the pasta is boiled in is that the pasta itself will have more flavor; this doesn't necessarily work well with heavily-salted bottled sauce, but with a homemade sauce like this it creates a dish with more balance. Use about 2 liters (a half gallon) of water and 1 Tbsp. salt for 200g (7 oz.) of spaghetti.