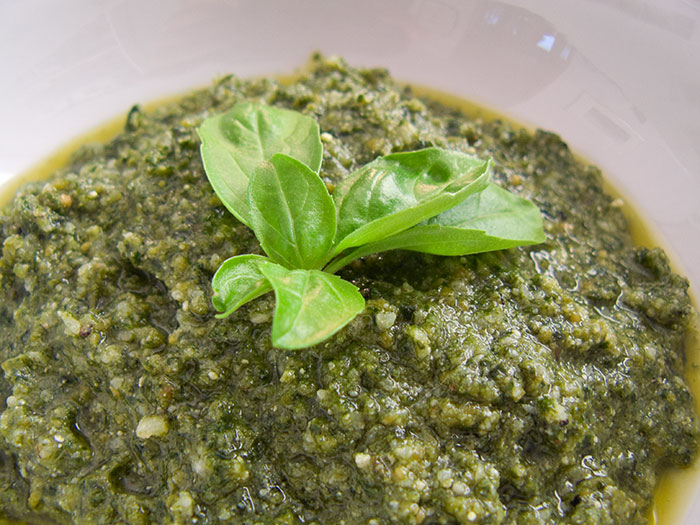 Pesto alla Genovese
| Ingredient | 1½ Cups | 1½ Cups |
| --- | --- | --- |
| fresh basil leaves | about 7 oz. (3 bunches) | about 200g (3 bunches) |
| pine nuts | about 6 oz. | 150-170g |
| garlic | 7-8 cloves | 7-8 cloves |
| salt | 1 tsp. | 1 tsp. |
It's hard to go wrong with pesto sauce made from fresh basil, and since the oil can be added later and it freezes well, storing it is easy. With a trip to the farmer's market and a bit of effort, you can be enjoying the taste of fresh basil well into the winter.
Note that the image above is of ready-to-serve pesto, with olive oil and parmesan cheese mixed in; the small image below is of the basil paste at the point you would freeze it.
Preparation
Wash the basil, shake it dry, pinch the stems off, and pat dry with a paper towel.
Directions
Roast pine nuts.
Roast pine nuts in a frying pan over low heat, stirring occasionally with a wooden spoon. The high oil content makes it easy to burn them, so be careful. Roast for 8 to 10 minutes; once they have browned slightly, remove from heat.
Prepare garlic.
Peel the garlic and cut the cloves in half.
Make basil paste.
Put one quarter of the basil leaves in a food processor and process until it becomes a paste. Add the rest of the leaves, a quarter at a time, processing each addition until smooth.
Add remaining ingredients.
Add the pine nuts, garlic, and salt to the food processor and process; stop before the pine nuts are completely blended, so the mixture is a bit gritty.
Store or prepare.
To freeze: Put in a freezer bag in a thin layer and freeze immediately; break off the desired amount from the sheet when ready to use.
To refrigerate: Put in bottle and cover with a small amount of olive oil, then refrigerate; keeps for a week or so.
When ready to use, blend in olive oil and parmesan cheese as appropriate to the recipe and your taste. A little goes a long way; for pasta sauce, use 1 Tbsp. of basil paste per person.
Notes
In addition to pasta (try Spaghetti al Pesto Genovese), pesto makes a great pizza sauce, and also very tasty garlic toast. The proportion of olive oil and parmesan cheese will vary depending on what you're intending to use it for, as well as your taste.