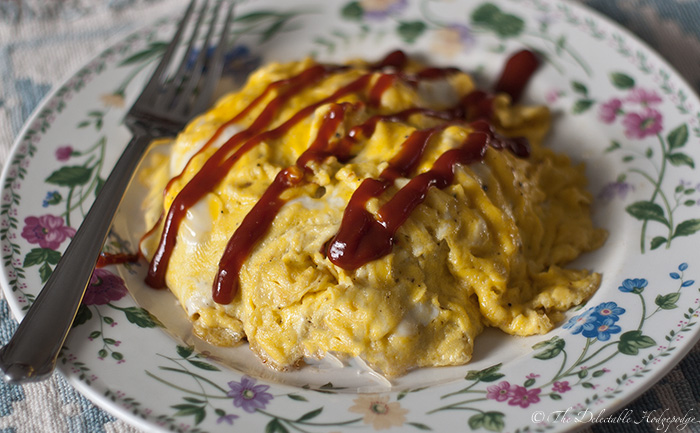 Easy Omurice
Ingredient
For Four
For Four
Chicken Rice
2 servings
2 servings
egg
8-12
(2-3 per serving)
8-12
(2-3 per serving)
heavy cream (or milk)
¼ - ½ cup
(1-2 Tbsp. per serving)
60-120cc
(1-2 Tbsp. per serving)
butter
4 Tbsp.
(1 Tbsp. per serving)
4 Tbsp.
(1 Tbsp. per serving)
olive oil
to grease pan
to grease pan
salt & pepper
to taste
to taste
cheese (optional)
to taste
to taste
This alternate, home-cooking-style version of Japanese omurice is a little less attractive, but easier to make and harder to get wrong.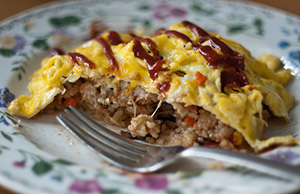 Preparation
Prepare one batch of Chicken Rice and divide it among the plates. If using cheese, put the shredded cheese on top of the rice on each plate; the heat of the omelette will melt it later.
Directions
Beat eggs with other ingredients.
Mix the eggs, cream, salt, and pepper in a bowl. Beat until well-blended, but be careful not to overmix; you don't want to create any froth, or it will ruin the texture of the omelette.
Grease a frying pan with oil and butter and heat.
Put about 1 Tbsp. of butter and a small amount of oil in a frying pan and melt over slightly-above-medium heat, being careful not to brown the butter.
Fry each omelette.
Pour one omelette's worth of egg mixture into the heated pan, then immediately stir briskly across the pan with wooden chopsticks or a fork (if you're not using a nonstick pan) to fluff up the egg as it begins to set. The goal is to fluff the omelette, not make scrambled eggs, so stop once the egg begins to set. When the egg is mostly cooked but still slightly runny on top slide it onto a plate of rice. Repeat for each serving.
Top with ketchup (or whatever sauce you prefer) and serve.
Notes
It's easiest to make the omelettes in a relatively small frying pan, about 8-10 inches (20-25cm).
The omelettes are best if you don't allow them to set completely, so using fresh, high-quality eggs is a good idea.
Any cheese will do; mild cheddar and swiss work well, and we had a block of good parmesan on hand at one point which turned out to be a perfect fit.