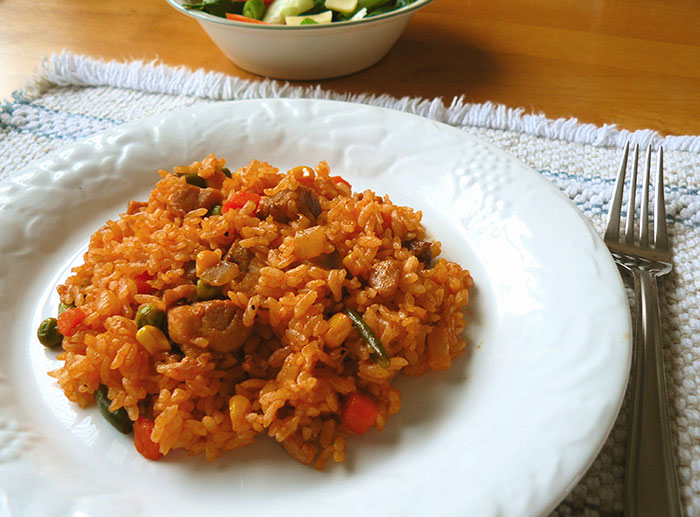 Chicken Rice
| Ingredient | For Two | For Two |
| --- | --- | --- |
| chicken thigh meat | 5 oz. | 150g |
| onion | ½ | ½ |
| mushrooms | 5-6 | 5-6 |
| green pepper | ½ | ½ |
| carrot | 1 small | 1 small (70g) |
| ketchup | 6 Tbsp. | 6 Tbsp. |
| Worcester sauce | 1 Tbsp. | 1 Tbsp. |
| heavy cream | 2 Tbsp. | 2 Tbsp. |
| cooked white rice | 4 cups | 4 cups (400g) |
| salt & pepper | (to taste) | (to taste) |
| butter | 2 Tbsp. | 2 Tbsp. |
This easy-to-make rice dish is a great way to turn leftover rice into a tasty main dish — just add some meat (leftover ham, for example) and some frozen veggies. It's hearty and, with its ketchup-based seasoning, has a very "American-style" flavor, so it should go over well with kids who don't have adventurous taste.
Preparation
Dice the onion, green pepper, and carrot. Cut the mushrooms in half, then slice thinly. Cut the chicken thigh into small chunks.
This recipe is designed for leftover white rice, so you want 4 cups of cooked rice, not 4 dry cups; warm it, covered, in the microwave.
Directions
Sauté the chicken and vegetables in the butter.
Heat a frying pan over medium heat; drop in 2 tablespoons of butter to melt, then add the onion and chicken. Sauté until the onion becomes transparent, then add the carrot, green pepper, and mushrooms (in that order) and finish cooking them.
Season.
Sprinkle with salt and pepper to your taste, then add the ketchup and Worcester sauce and mix over heat. Add the heavy cream and mix briefly.
Add rice.
Over medium heat, add the rice, breaking it up and tossing together lightly with the rest of the ingredients. Once the rice is well-coated, remove from heat and serve.
Notes
Though you can use fresh-cooked white rice, the recipe is intended to be used with leftovers.
1/2 to 2/3 cup of frozen mixed vegetables can be substituted for the green pepper and carrot.
Cubed ham can be substituted for chicken.
The heavy cream is optional; it will make the flavor more mellow.