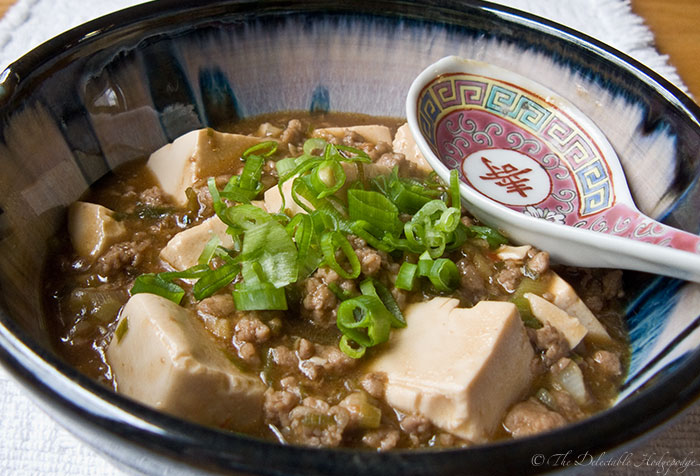 Mabodofu
Ingredient
For Two to Three
For Two to Three
firm silken tofu
1 block (12 oz.)
1 block (350g)
ground meat (pork or beef and pork mix)
⅓ - ½ lb.
150 - 200g
doubanjiang chili paste
2-3 tsp.
2-3 tsp.
ginger (minced)
2 tsp.
2 tsp.
garlic (minced)
2 tsp.
2 tsp.
white base of green onion (minced)
½ - ⅔ cup
½ - ⅔ cup
green onion stalk (thin-sliced)
2 - 3 Tbsp.
2 - 3 Tbsp.
corn starch
1½ Tbsp.
1½ Tbsp.
water
1½ Tbsp.
1½ Tbsp.
sesame oil
1 Tbsp.
1 Tbsp.
vegetable oil
1 Tbsp.
1 Tbsp. + 1 tsp.
Seasoning
miso or tenmenjan
½ Tbsp.
½ Tbsp.
chicken soup stock
1 cup
250cc
sake
1 Tbsp.
1 Tbsp.
soy sauce
½ Tbsp.
½ Tbsp.
sugar
1 Tbsp.
1 Tbsp.
Mabodofu is a Chinese tofu dish something like a very thick stew; it's more mildly flavored than it looks, with a pleasant mix of spiciness, ginger, garlic, and a savory sauce. In Japan, it's a family favorite served with white rice.
Preparation
Wrap the block of tofu in a paper towel, put it on a plate deep enough to hold some liquid, and let it sit for about 20 minutes to drain. Remove the paper towel and cut into roughly 1-inch (2-3cm) cubes.
In a medium bowl stir together the soup stock, sake, sugar, and soy sauce and set aside.
Mince the ginger, garlic, and the white base of the green onions; slice the green part of the green onions into thin rings.
Dissolve the corn starch in an equal amount of water.
Directions
Fry ground meat.
Heat 1 Tbsp. of vegetable oil in a large frying pan over medium-high heat, then fry the ground meat until fully browned.
Fry garlic, ginger, and chili paste.
Reduce heat to low and push the browned meat to the far side of the frying pan. Pour 1 tsp. of vegetable oil onto the near side and briefly fry the garlic, ginger, and chili paste in it, then mix together with the meat.
Add miso and minced onion.
Add the miso and the minced green onion base and fry briefly.
Add soup stock mixture, tofu, and remaining seasonings.
Add the soup stock mixture. Raise heat to high until it is hot and bubbling. Don't stir it much, so as not to break up the tofu.
Add corn starch and sesame oil.
Remove pan from heat. Sir up the corn starch paste and drizzle over the hot pan, then stir in briefly. Return pan to high heat, add the sesame oil, and stir briefly. Let cook over high heat for about 1 minute.
Serve.
Transfer to a plate and sprinkle the green onion slices on top, then serve over white rice.
Notes
In Japan this would be made with Japanese naga negi (like a very large green onion). They're hard to find in the US, so this recipe substitutes green onions; the white base is minced, while the green stalk is chopped and used as a garnish.
I prefer firm silken tofu in this recipe, but it works just as well with whichever variety you prefer, so long as it is solid enough to hold together while cooking.
Though red miso works fine, most properly this would be made with tenmenjan (Chinese sweet miso) if you can find it.
2 tsp. of chili paste will be only mildly spicy; if you like spicy food you can put 3 tsp. or even more.