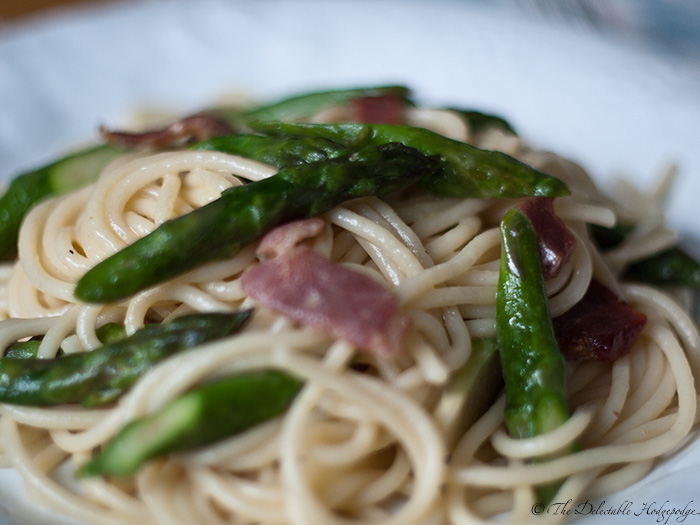 Asparagus & Bacon
Cream Sauce Spaghetti
| Ingredient | For Two | For Two |
| --- | --- | --- |
| spaghetti | 7 oz. | 200g |
| asparagus | 5 stalks | 5 stalks |
| bacon | 3.5 oz. | 100g |
| heavy cream | scant ½ cup | 120 ml |
| sweet vermouth | ¼ cup | 60 ml |
| olive oil | to grease pan | to grease pan |
| salt | to taste | to taste |
| pepper | to taste | to taste |
Hearty chunks of asparagus give an uncommon texture to this simple spaghetti combination; the sauce provides a mellow background to the prominent flavors of the main ingredients.
Preparation
Cut the bacon into half-inch (1 cm) pieces.
Cut about a half-inch (1 cm) off the bottom of the asparagus stalks and peel the outside skin off the bottom inch (2 cm) of the remaining stalk.
Directions
Boil spaghetti.
Boil spaghetti in a large pot of salted water. Follow the directions if using packaged spaghetti, but stop before it's fully cooked, stiffer than al dente. Reserve a half-cup (100 ml) of the water, then drain and set the pasta aside.
Cook asparagus.
Put the asparagus in a pot of salted boiling water, and cook until it's on the firm side of done, still a little crunchy. Drain and rinse with cold water until cool. Cut the asparagus stalks at an angle into pieces a little longer than an inch (3 cm), and set aside.
Cook bacon.
Fry the bacon in a bit of olive oil.
Prepare sauce.
Add the vermouth to the bacon and let simmer for one minute. Add the reserved pasta water and simmer over low heat for three or four minutes. Add the heavy cream and simmer another two minutes. Add salt and pepper to taste.
Toss sauce and pasta.
Add the spaghetti and asparagus to the sauce and toss in the pan. Let heat briefly before serving.
Notes
A variation is to use ham instead of bacon, a particularly good option if you have leftover ham and asparagus from a holiday meal as my family often does.
The advantage of salting the water that the pasta is boiled in is that the pasta itself will have more flavor; this doesn't necessarily work well with heavily-salted bottled sauce, but with a homemade sauce like this it creates a dish with more balance. Use about 2 liters (a half gallon) of water and 1 Tbsp. salt for 200g (7 oz.) of spaghetti.